The 2014 FUNTRAK PicNik has come and gone. As usual, everyone had an outstanding time. Prizes were awarded to all the participants so nobody left without some kind of memento. These ranged from tarps to multimeters to screwdriver sets. There were enough prizes to go all around and one and all received something. The food was plentiful and cooked to perfection by our Canadian friend David King. There was the possibility of some confusion with names this year—What was the confusion? Brian's brother and nephew were both in attendance, along with our Canadian friend: all three are named David King! Folks did manage to figure out who was who after a while.
With all three of David King's boys in attendance, along with all of Brian and Roseanne's children it made for one big happy King family. Attendance was up this year with total population somewhere near the century mark. The fifty-fifty went extremely well and helps support the PicNik. Bobby Miller was this year's lucky winner.
Besides the fun and games, food, and camaraderie, there were plenty of trains running too. FUNTRAK club members kept six layouts operating in the basement for the entire PicNik. Friends Mike and Al from Albany supplied some additional T-trak modules which enhanced the overall size and running capabilities of the layout.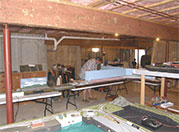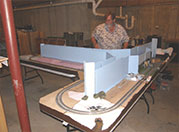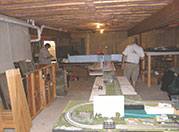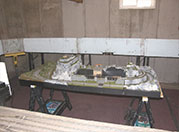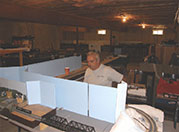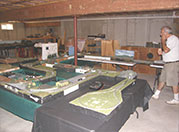 All in all, another fantastic time for all the revelers at the annual event. Number twelve is scheduled for August 2, 2015. Mark your calendar and don't miss this exciting event.